The lights are dim inside the Museum of Neon Art (MONA) in Glendale, California, setting a dramatic backdrop for the glow emanating from dozens of vintage signs suspended from its ceiling and hung on its walls. With their splashy lettering and whimsical shapes, the individual pieces advertise everything from barbecue restaurants to bowling alleys. They speak to a bygone era—and a dying art.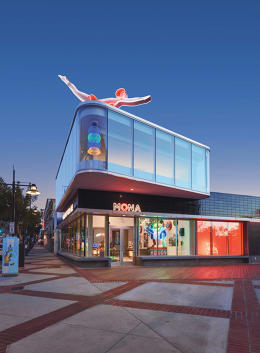 To Eric Lynxwiler, a curator at the museum, preserving and showing these neon signs connects us with our not-so-distant past, and reminds us how our cities once looked.
"It's important to remember where we were," Lynxwiler says. "A lot of people assume that what we have today [with respect to signage] is what it's always been; however, we once had these fantastic, electric pieces of signage dotting the nation. We lose a something inspirational when signs disappear. It's important to keep this culture alive for people to reminisce and wax nostalgic."
MONA was founded in 1981 and relocated multiple times in the L.A. area until it closed in 2011, while it prepared for the construction of its permanent home. The new 8,400-square-foot building by Shimoda Design Group opened in November 2015. In addition to having wide open space that can accommodate the collection—some signs are as wide as two garage doors and require cranes to move—the structure is customized to have plenty of outlets on the walls, ceilings, floors, and columns, and features its own mini power plant—the museum draws about four times the energy as a typical American house—to ensure that it never blows a fuse keeping the signs illuminated or HVAC system running.
Finish reading at FastCo Design